Spring is the perfect time to mix up your meals and try something new.
Berries are just starting to arrive, trees are bursting with lemons, and herbs are abundant.
Farmers markets are overflowing with gorgeous produce, and everything is so fresh and full of flavor. Take advantage of the delicious spring produce with these IBS-friendly, low FODMAP recipes.
Breakfast
1. Gluten-free Dutch baby with blueberry maple syrup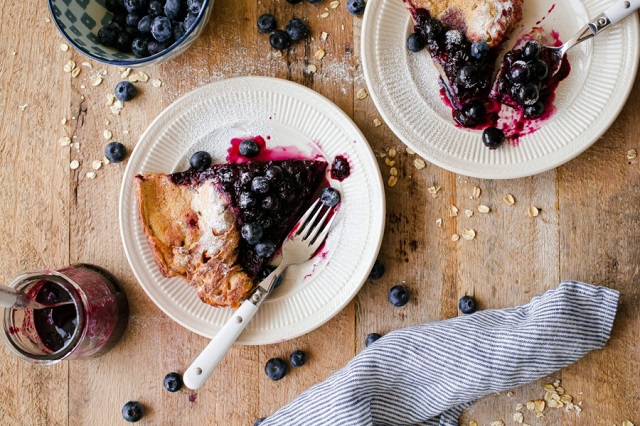 Imagine a pancake, crepe, and fluffy angel cake all had a baby.
They would make this Dutch baby, a delightful, easy-to-make breakfast treat. This gluten-free version is made with oat flour, so you'll stay full at least until lunch.
Substitute a lactose-free milk or a dairy alternative such as almond, oat, or rice milk for the 2/3 cup whole milk in the recipe.
This easy Gluten Free Dutch Baby Recipe is made with gluten free rolled oats, making it naturally gluten free and whole grain. You'd never know by the taste! The batter can be thrown together in a blender. Top with maple syrup or a simple blueberry maple syrup (recipe included below).
Equipment
Vitamix 5200 Blender
Lodge 10.25 inch Cast Iron Skillet
Ingredients
Homemade Blueberry Maple Syrup:
1 pint (12 oz) fresh blueberries
¼ cup pure dark maple syrup
Gluten Free Dutch Baby:
3 large eggs + 1 large egg white
¾ cup Bob's Red Mill Gluten Free Rolled Oats
⅔ cup whole milk
¼ teaspoon baking powder
½ teaspoon pure vanilla extract
½ teaspoon ground cardamom
⅛ teaspoon Diamond Crystal kosher salt
4 tablespoons (60 g) unsalted butter cut into cubes
powdered sugar (optional) for dusting
Click 'Next Page' if you want to see more.