Easy, fresh, and healthy salad recipes that can be on your dinner table in no time!
With a birthday that just passed and my slowing metabolism, I'm finding that I can't burn off a cheeseburger as quickly as I did 10 years ago. But thankfully enough, these hearty salads come in super handy at times like these. Best of all, they're all so quick and easy to whip up!
1. BBQ Chicken Salad –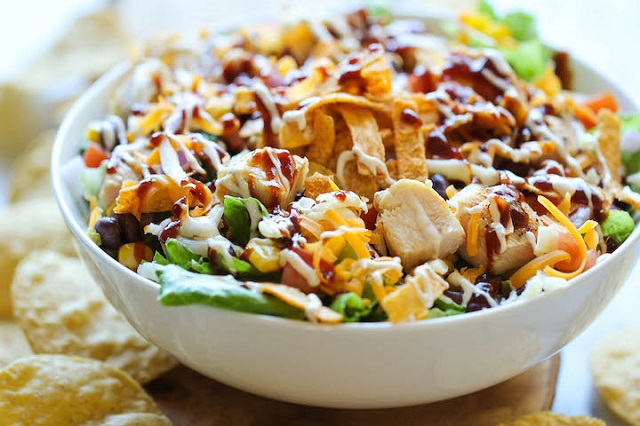 This healthy, flavorful salad comes together so quickly, and it is guaranteed to be a hit with your entire family.
Now this BBQ chicken salad has been on my bucket list for years. It's one of my favorite salads to order when eating out but it also gets to be so expensive! After all, who wants to spend $15 on a salad for lunch?
INGREDIENTS:
1 tablespoon olive oil
2 boneless, skinless thin-sliced chicken breasts
Kosher salt and freshly ground black pepper, to taste
6 cups chopped romaine lettuce
1 Roma tomato, diced
3/4 cup canned corn kernels, drained
3/4 cup canned black beans, drained and rinsed
1/4 cup diced red onion
1/4 cup shredded Monterey Jack cheese
1/2 cup shredded cheddar cheese
1/4 cup Ranch dressing
1/4 cup BBQ sauce
1/4 cup tortilla strips
DIRECTIONS:
Heat olive oil in a medium skillet over medium high heat.
Season chicken breasts with salt and pepper, to taste. Add to skillet and cook, flipping once, until cooked through, about 3-4 minutes per side. Let cool before dicing into bite-size pieces.
To assemble the salad, place romaine lettuce in a large bowl; top with chicken, tomato, corn, beans, onion and cheeses. Pour Ranch dressing and BBQ sauce on top of the salad and gently toss to combine.
Serve immediately, topped with tortilla strips.
Click 'Next Page' if you want to see more Salads.