So easy, nutritious and hearty. Best of all, they don't even taste "healthy"!
To compensate for all those non-diet-friendly recipes I started posting since the start of January – particularly that lemon butter chicken and the easy creamy mushrooms – I thought it would be best to redeem myself by rounding up some of my favorite quinoa recipes. After all, life is all about balance, right?
1. Quinoa Enchilada Casserole –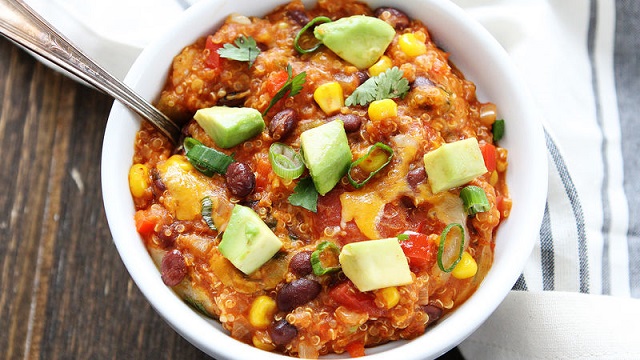 A lightened-up, healthy enchilada bake chockfull of quinoa, black beans and cheesy goodness.
INGREDIENTS:
1 cup quinoa
1 (10-ounce) can Old El Paso™ mild enchilada sauce
1 (4.5-ounce) can Old El Paso™ chopped green chiles, drained
1/2 cup corn kernels, frozen, canned or roasted
1/2 cup canned black beans, drained and rinsed
2 tablespoons chopped fresh cilantro leaves
1/2 teaspoon cumin
1/2 teaspoon chili powder
Kosher salt and freshly ground black pepper, to taste
3/4 cup shredded cheddar cheese, divided
3/4 cup shredded mozzarella cheese, divided
1 avocado, halved, seeded, peeled and diced
1 Roma tomato, diced
DIRECTIONS:
In a large saucepan of 2 cups water, cook quinoa according to package instructions; set aside.
Preheat oven to 375 degrees F. Lightly oil an 8×8 or 2 quart baking dish or coat with nonstick spray.
In a large bowl, combine quinoa, enchilada sauce, green chiles, corn, black beans, cilantro, cumin and chili powder; season with salt and pepper, to taste. Stir in 1/2 cup cheddar cheese and 1/2 cup mozzarella cheese.
Spread quinoa mixture into the prepared baking dish. Top with remaining cheeses. Place into oven and bake until bubbly and cheeses have melted, about 15 minutes.
Serve immediately, garnished with avocado and tomato, if desired.
Click 'Next Page' if you want to see more recipes.