When your energy gets low between meals and hunger kicks in, it's important to reach for a filling snack that can power you through to your next meal.
Unfortunately, many snack foods are low in filling nutrients like protein and fiber and instead high in added sugars and refined carbs. This isn't a good combination when you're looking for lasting energy. The usual suspects include chips, cookies, and certain granola bars.
However, there are plenty of nourishing snacks to choose from that make excellent snack choices, including homemade recipes and ready-to-eat options.
Below you'll find 20 tasty ideas for snacks that are healthy and energizing.
Options 1–11 are premade snacks you can purchase online or at your local grocery store. These are a great option for when you can't or don't want to spend time in the kitchen.
Options 12–20 are healthy homemade snack options. They may cost less and use less packaging than premade snacks.
1. Nutrient-dense bars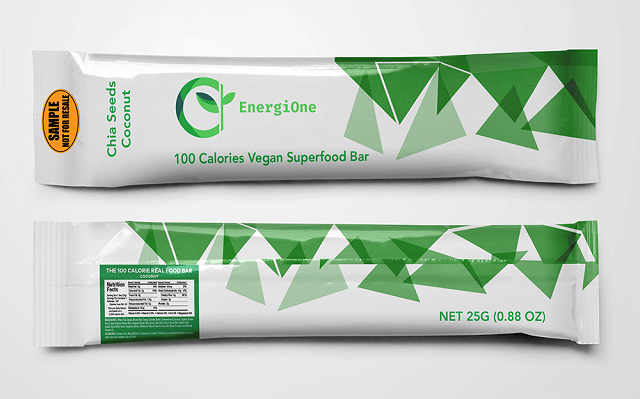 When you're choosing premade energy bars, make sure to look at the ingredient list.
Most protein and granola bars are packed with ingredients like added sugar and preservatives, which many people prefer to limit in their diets.
The following bars are made with whole food ingredients and contain little to no added sugars:
Thunderbird Real Food Bars. These bars are sweetened with dates and contain energizing blends of fruit, nuts, seeds, and healthy fats.
EPIC Performance Bars. These are sweetened with dates and packed with 12 grams of protein from egg whites.
Patterbars. These are made from whole foods and come in delicious flavors like coconut cashew and blueberry lemon.
Bobo's Protein Bars. These oat-based bars contain a good amount of plant-based protein. The cherry almond, almond butter, and peanut butter flavors are low in sugar, containing just 5 grams of added sugar from organic honey per bar.
Wild Zora Meat and Veggie Bars. If you're looking for a savory option, these tasty bars are rich in veggies and protein.
2. Premade energy balls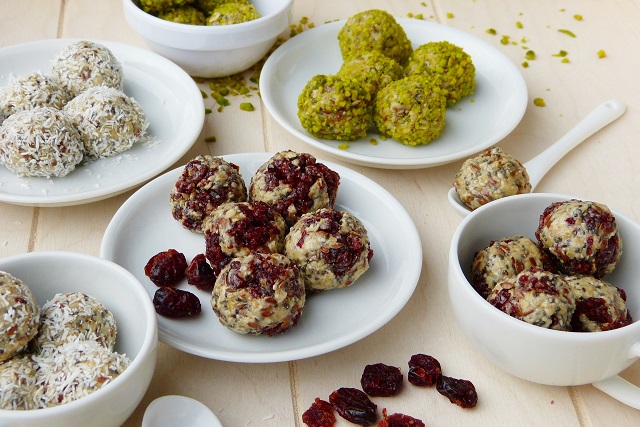 Making energy balls at home can be time consuming. Fortunately, you can purchase premade energy balls online or at your favorite health food store without sacrificing taste or nutritional quality.
Here are a few excellent options for premade energy balls:
Daily Harvest Energy Bites. These bites are a perfect blend of nutrient-dense, whole food ingredients that will help keep you full until your next meal. They come in five flavors, such as hazelnut chocolate.
Navitas Power Snacks. These are made with energizing blends of fruits, seeds, and ingredients like acerola cherry powder. They're a perfect snack choice to provide lasting energy.
Abbey's Better Snack Bites. These snack bites are made with only six ingredients, including nuts and dates. Plus, they're peanut-free, making them safe for those with a peanut allergy.
Made in Nature Figgy Pops. These are packed with filling ingredients, including nuts, fruit, and coconut.
3. Dried fruit and nuts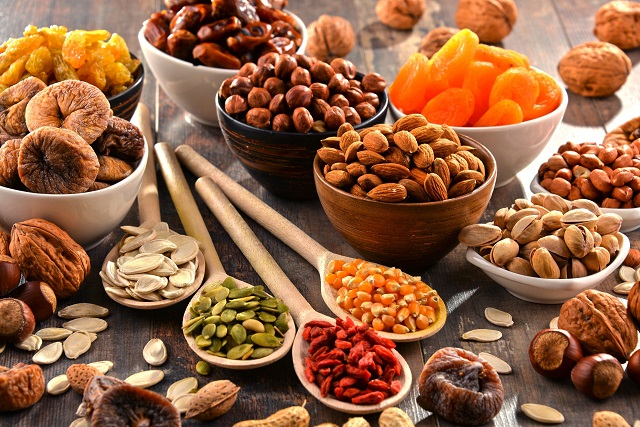 If you're searching for healthy, portable snacks, be sure to pick up dried fruit and nuts the next time you go grocery shopping.
Simply pair roasted or raw nuts and dried fruit for a satisfying snack that's brimming with protein, fiber, and healthy fats.
Here are some delicious combos:
dried mango and macadamia nuts
dried cherries and salted almonds
raisins and walnuts
dried apricots and pecans
Just be sure to choose dried fruit that's unsweetened or naturally sweetened with apple juice. Also, be sure to buy unsulfured options, which do not use the preservative sulfur dioxide.
4. Turkey sticks and fresh fruit
Turkey sticks can be a filling choice on their own, but pairing these protein-packed snacking sticks with an apple, peach, or pear provides even more staying power thanks to the fiber in the fruit.
Many brands offer free-range turkey sticks.
Shop for the New Primal, Chomps, and Nick's Sticks free-range turkey sticks online.
5. Canned salmon, avocado, and crackers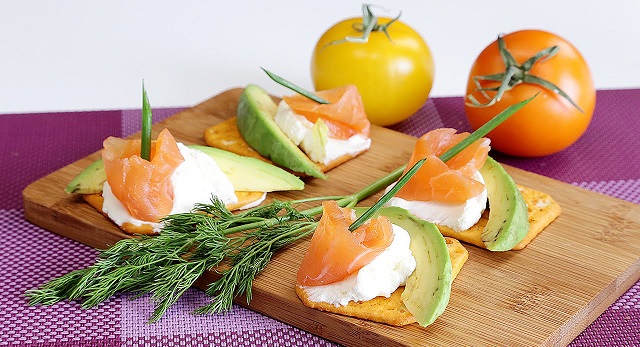 Combining salmon with avocado and crackers creates a balanced combo that's sure to satisfy your snack cravings.
Salmon is loaded with nutrients, including protein, omega-3 fats, selenium, and B vitamins. Avocados and crackers provide an excellent source of fiber plus other important nutrients (1Trusted Source, 2Trusted Source).
What's more, the ingredients for this snack are portable. Simply pack a can of salmon, whole avocado, and box of nutritious crackers and create tiny sandwiches when your cravings strike.
Shop online for Wild Planet canned salmon, as well as crackers by Simple Mills or Mary's Gone Crackers.
6. Dark chocolate covered almonds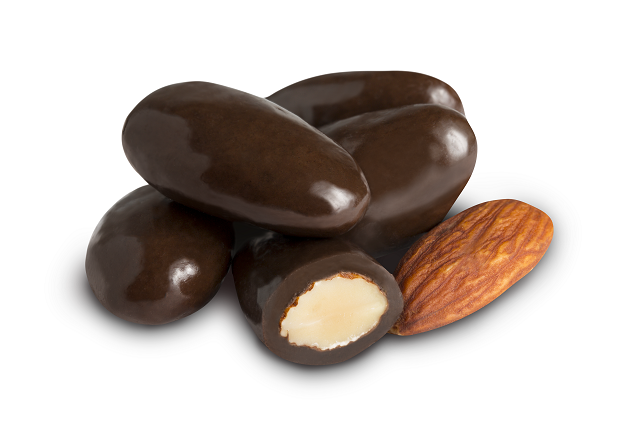 Dark chocolate is perfect when you're craving a sweet snack to put a bit of pep in your step. Even though reaching for a sugary candy bar to satisfy your craving isn't the best choice for your health, there are more nutritious chocolate options available.
For example, combining dark chocolate with almonds is a smart choice, as it provides protein along with fiber and healthy fats to keep you feeling full.
Shop for Hu Kitchen's Almond Chocolate Hunks or SkinnyDipped Dark Chocolate Cocoa Almonds online.
7. Nut butter packets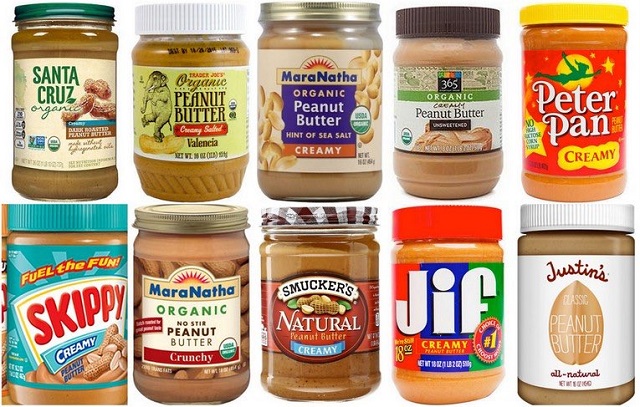 Nut butter is rich in protein and fat and makes an excellent partner for fruits and veggies.
Munching on most fruits or veggies alone typically isn't enough to keep you full for long, but pairing produce like apples, celery, or carrots with a nut butter packet provides more calories and staying power (3Trusted Source).
Several brands offer nut butter packets without added oils or added sugar.
Shop for Artisana, RX, and Barney healthy nut butters online.
8. Bean-based snacks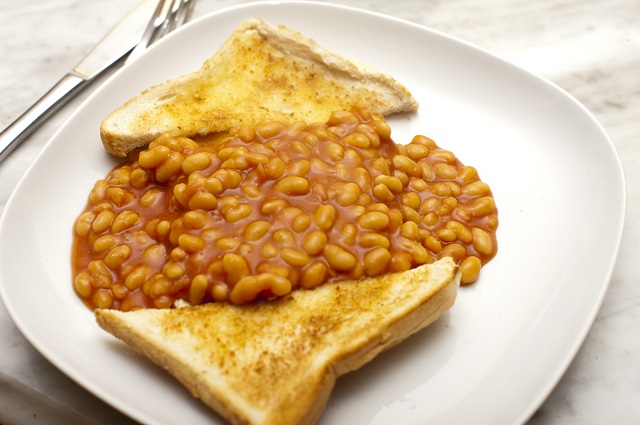 Beans are a wonderful food to reach for when you're feeling hungry and need a quick source of energy. They're packed with fiber and plant-based protein and give your body long-lasting energy.
Try munching on dried chickpeas or packaged bean snacks. You can also purchase snack-sized packs of hummus to combine with veggies on the go.
Shop for Biena Chickpea Snacks or Brami Lupini Snacking Beans online.
9. Premade guacamole and plantain chips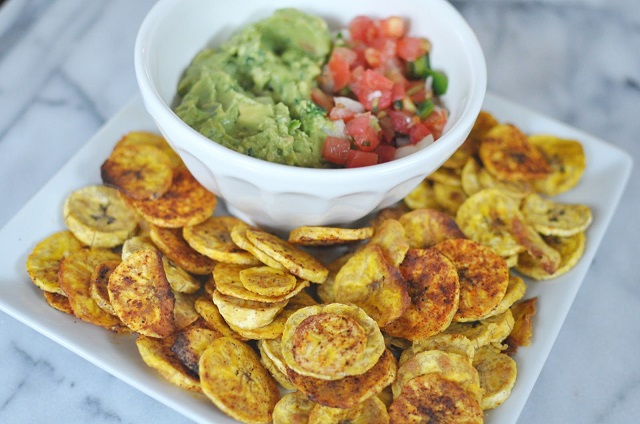 There's nothing better than a bowl of freshly made guac. Fortunately, some companies offer premade versions that are just as delicious.
Pair guacamole cups with plantain chips for a salty, crunchy snack.
Shop for Wholly Guacamole and Barnana Plantain Chips online.
10. Cottage cheese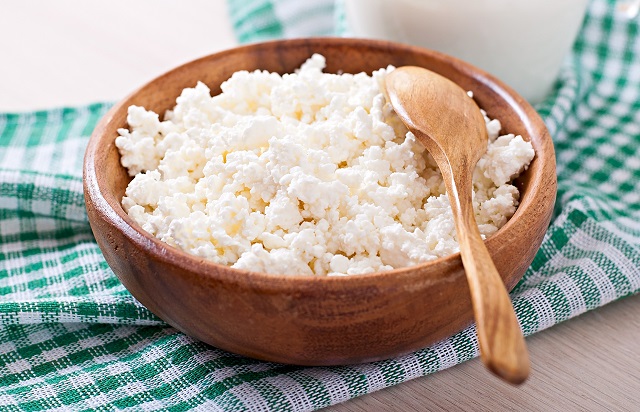 Another versatile and portable snack idea is cottage cheese. It can satisfy both sweet and savory cravings, depending on the toppings you choose.
Mix cottage cheese with berries, hemp seeds, and dark chocolate chips for a sweet version, or top cottage cheese with everything bagel seasoning for a more savory taste.
Some companies offer single-serve cottage cheese cups that make a perfect choice for snacking.
Shop for Good Culture Cottage Cheese online.
11. Soup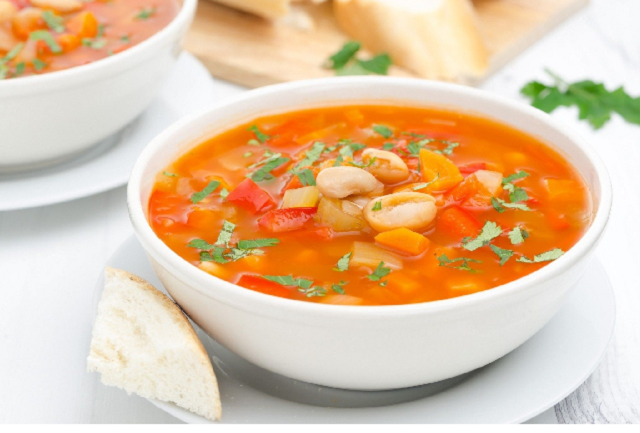 When you're yearning for a hot bowl of soup but don't have the time to make a pot from scratch, reach for a premade nutritious soup.
Some brands offer premade soup products with nutrient-dense ingredients.
Shop for Kettle and Fire, Parks & Nash, Wolfgang Puck, Karine and Jeff, and True Primal premade soups online.
12. Espresso overnight oats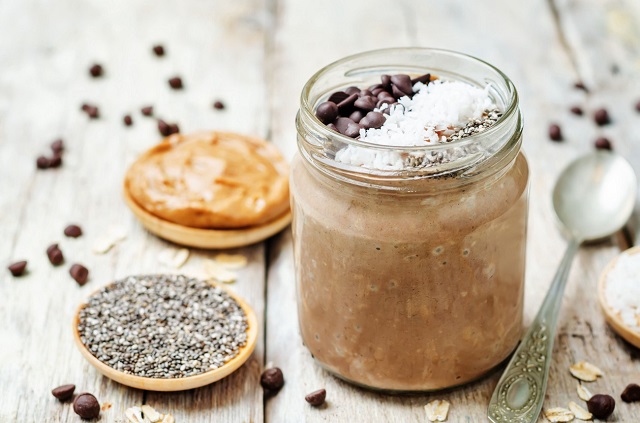 If you'd rather eat your caffeine than drink it, try this delicious recipe for espresso overnight oats.
It's packed with fiber from the oats and healthy fats and protein from the Greek yogurt and almond butter. Plus, it contains espresso, so it's sure to give you the energy boost you need.
13. Egg and sweet potato muffins
Eggs are one of the most nutrient-dense foods you can eat. They're a smart choice for a filling snack.
To make a more complete snack, pair eggs with a source of complex carbs.
These sweet potato hash egg muffin cups are the perfect balance of protein, carbs, and fat that you can enjoy any time of day.
14. Homemade trail mix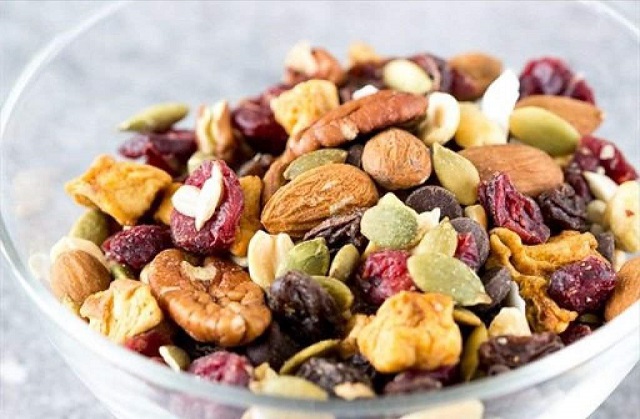 Trail mix is one of the easiest and most versatile snacks you can make. It's energy and nutrient dense, which is why it's a favorite among those who need a quick source of energy, such as hikers.
Choose ingredients like unsweetened dried fruit, nuts, seeds, and unsweetened coconut to create a pleasing snack combination.
Here are a few tasty trail mix recipes to try:
tart cherry walnut trail mix
pumpkin spice trail mix
tropical trail mix
15. Tropical green smoothie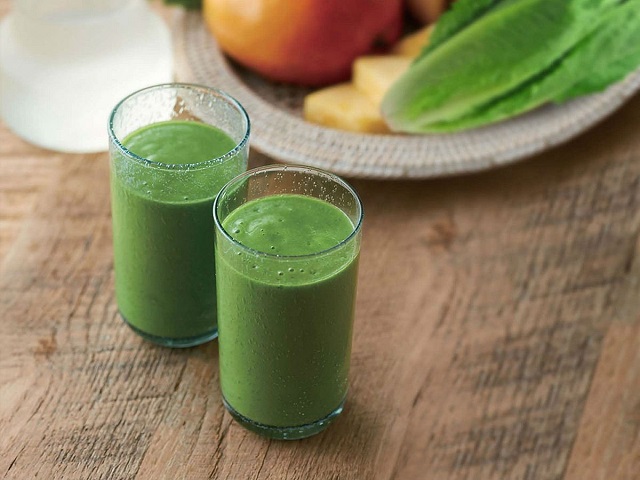 To make a smoothie filling enough to tide you over in between meals, it's important to add a source of protein — the most filling macronutrient.
Good protein choices for smoothies include nut butter, Greek yogurt, and protein powders.
This tropical green smoothie recipe is packed with healthy ingredients, including frozen mango, spinach, and chia seeds, and it gets a kick protein from vanilla protein powder.
16. Chocolate almond butter banana bites
For a sweet yet satisfying energy boost, try out this recipe for chocolate almond butter banana bites.
Bananas are highly nutritious and provide a number of nutrients, including vitamin B6, vitamin C, potassium, and fiber (4Trusted Source).
Combining banana slices with protein-rich almond butter and a bit of chocolate creates an irresistible snack you can store in your freezer.
17. Charcuterie board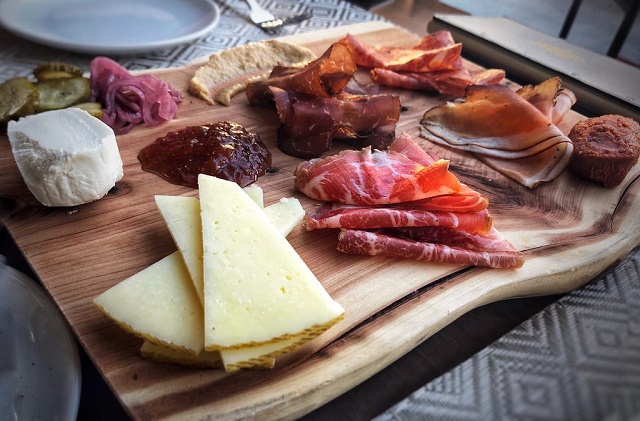 A charcuterie board is the perfect choice if you're having a tough time deciding what you'd like to snack on.
Charcuterie boards are simple to make. Just choose your favorite cheeses, fruits, nuts, veggies, meat, and plant-based protein sources and combine them on a plate, platter, or cheese board.
Here is a guide for making a charcuterie board that looks as good as it tastes.
18. Mediterranean jars
If you're getting bored of your go-to salad recipes, try this recipe for Mediterranean chickpea and egg salad in a jar.
Healthy ingredients like chickpeas, quinoa, hard-boiled eggs, arugula, and avocado are layered in a glass jar, making it a perfect snack to take when you're on the go.
When you're ready to enjoy it, dump the salad into a bowl or enjoy it straight from the jar.
19. Everything bagel sweet potato rounds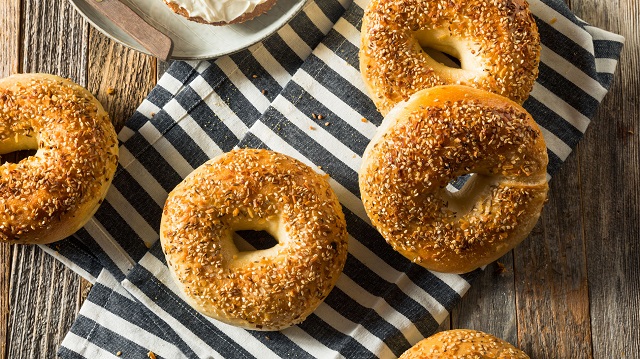 Crunchy potato chips are a favorite of many snackers. These everything bagel sweet potato rounds are a healthier alternative to fried potato chips and flavored with the ever-so-popular everything bagel seasoning.
Enjoy these rounds on their own or eat them with a protein-rich dip like hummus.
20. Berry and yogurt parfait
Berries are packed with nutrients, including fiber and vitamin C, as well as anti-inflammatory compounds that help keep your body healthy (5Trusted Source).
Try out this recipe that layers Greek yogurt with fresh berries and chia seeds. Sprinkle with toppings like chopped nuts, cacao nibs, or granola.
You could easily make this recipe dairy-free by swapping Greek yogurt for plant-based yogurt.
Shop for Lavva or Culina plant-based yogurts online.
The bottom line
When you're craving a snack, it's important to choose foods that are filling and high in nutrients.
Noshing on balanced snacks will not only keep your energy levels up but also ensure you're satisfied and focused throughout your day.
Try out the healthy and energizing ideas listed above, and you'll be prepared with plenty of nutritious snack options.