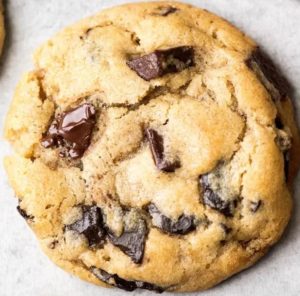 Servings: 20 cookies Time: 30 minutes
Ingredients:
½ cup salted butter, softened
1 cup chocolate chips
½ cup white granulated sugar
1 teaspoon pure vanilla extract
2 cups all-purpose flour
½ cup light brown sugar
1 large egg
½ teaspoon sea salt
¼ teaspoon baking powder
½ teaspoon baking soda
Instructions
1. Preheat oven to 170°C. Line baking tray with parchment paper. Combine in a bowl
salt, flour, baking soda, and baking powder.
2. In another bowl, mix butter and sugar till well-combined. Whisk in vanilla and eggs
till fluffy. Add in the flour mixture and mix. Add the chocolate chips and combine.
3. Scoop 3 dough into a ball and place separately on the lined pan. Bake for 6-8 minutes,
remove when just starting to turn brown.
4. Allow to cool for two minutes on baking tray before moving to cooling rack.