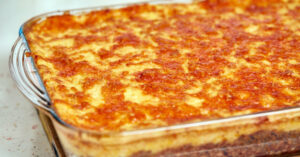 We really enjoy our "updated"€ version of cottage pie, a super hearty meat-and-potato dish that is the definition of comfort food. Cottage pie is a rustic dish that doesn't have to be fancy to be delicious. The ingredients are simple, but with a few herbs and twists on conventional ingredients, it's easy to make something humble taste extra special. This is a Sunday, sit down, slow down dinner with family before a new, crazy week begins. We've tried a few short cuts and changes here and there to put our own spin on the usual recipe. We don't let the changing seasons stop us from making a dish that we know the family loves!
We love adding cheese to the top of the pie for the final few minutes of baking; it adds a nice crust that offers flavor and texture. And since we pretty much know our mashed potato recipe by heart, it's super easy to whip up a quick batch to go on top of the pie. A little bit of hands-on time goes a long way towards putting a meal on the table that is comforting and satisfying.
INGREDIENTS
1 1/4 pounds potatoes, any variety, peeled and cut into chunks
3 large cloves garlic, minced
3/4 cup sour cream
2/3 cup cheddar cheese, divided (1/3, 1/3)
1 pound lean ground beef or ground turkey
1 (12 oz) package frozen peas and carrots
1 tablespoon Worcestershire sauce
1 cup broth, vegetable or beef
1 tablespoon Italian seasonings
2 tablespoons ketchup
1/2 cup half-and-half (more if needed)
3 tablespoons unsalted butter, cut into single tablespoons
PREPARATION
Boil water in a large saucepan. Place potatoes in water and boil 20 minutes.
Preheat oven to 375°F.
Brown ground meat in large skillet, drain. Return meat to pan and add frozen vegetables, Worcestershire sauce, broth, Italian seasonings, minced garlic, and ketchup. Stir to incorporate and cook for 5-7 minutes.
Drain potatoes and return to pot. Mash in sour cream, butter, and half-and half, 1 teaspoon salt and 1/2 teaspoon pepper (more or less, to taste), whipping until smooth.
Mix 1/3 cup cheese into potatoes.
Pour meat mixture into greased 9×13-inch baking dish. Spoon and spread potatoes on top of meat layer.
Bake 25 minutes. Pour rest of cheese on top and bake another 5 minutes, or until cheese begins to brown.
Recipe adapted from 12 Tomatoes