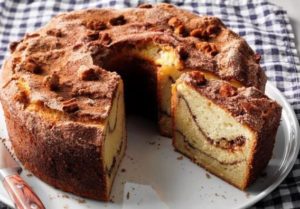 Servings: One cake Time: 50 minutes
Ingredients:
1 tablespoon ground cinnamon
2 cups all-purpose flour
½ teaspoon salt
½ cup melted butter
½ teaspoon baking soda
1 cup sour cream
2 large eggs, room temperature
¼ cup chopped walnuts
1 teaspoon vanilla extract
2 cups sugar, divided
Instructions:
1. Preheat the oven to 180°C. In a medium bowl, add in sugar and cream butter, whisk
until mixture is light fluffy. Whisk in egg (one at a time) beating well after each
addition. Mix in vanilla. Mix in flour, salt, and baking soda. Then add in sour cream
alternately whisking to keep batter smooth.
2. Scoop 1/3 of batter into a lined 8-inch tube pan. Mix in cinnamon, sugar and chopped
nuts. Sprinkle 1/3 of cinnamon and nuts mixture over the batter in the pan. Do this
again for another layer and repeat for two more times. Then bake in the oven at 350°C
for 45-50 minutes until a skewer inserted comes out clean.
3. Allow to cool at room temperature for 15 minutes before taking out of the pan, then
place on a wire rack to cool totally.