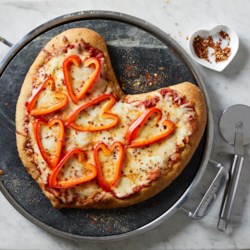 "Shaping a round a pizza dough into a heart is an easy way to make a healthy vegetable pizza whimsical and fun. In additional to the heart-shaped dough, slices of red pepper form decorative heart shapes on the pizza. For the most impact, use a pepper that has a deep curve at the stem."
Ingredients
1 pound prepared pizza dough, preferably whole-wheat
All-purpose flour for rolling
Cornmeal for sprinkling

½ cup prepared marinara sauce
1 cup shredded part-skim mozzarella cheese
1 red bell pepper with a deep curve at the stem
Directions
1

Position rack in the lowest position in the oven and place a pizza stone on the rack; preheat to 450°F.

2

Cut pepper in half vertically. Remove stem and seeds. Cut vertical slices from the pepper so that each slice resembles a half-heart shape.

3

On a lightly floured surface, roll dough into a 12-inch circle. Transfer to a pizza peel sprinkled with cornmeal. Cut a wide V shape at the top of the circle. Round out the tops on either side of the V and pull and pinch the bottom of the circle to resemble a heart.

4

Spread sauce evenly over the crust. Top with the cheese. Arrange bell pepper slices in heart shapes over the pizza. Transfer to the heated pizza stone and bake until the crust is crispy and golden and the cheese is melted, 13 to 14 minutes.
Source: Allrecipes.com