How to Clean Oven Racks
Your approach for cleaning the oven racks should be totally different from how you clean the appliance's inner shell. First, remove the racks from your oven so that you can comfortably — and effectively — clean them. Wash the racks one at a time in warm, sudsy water. Scrub stubborn gunk and grime with a pad, like Brillo Basics Estracell Heavy Duty Scrub Sponge. Rinse the racks, let dry, and slide them back into place.
How to Clean Oven Door
The outside of your oven, however, can be cleaned the same way as the interior with warm, sudsy water and a sponge. For streak and spot-free glass, spritz on a glass or grease-cutting multi-purpose cleaner like Simple Green All-Purpose Cleaner. Scrub with a scrubbing pad, rinse with a clean cloth or sponge, and let dry.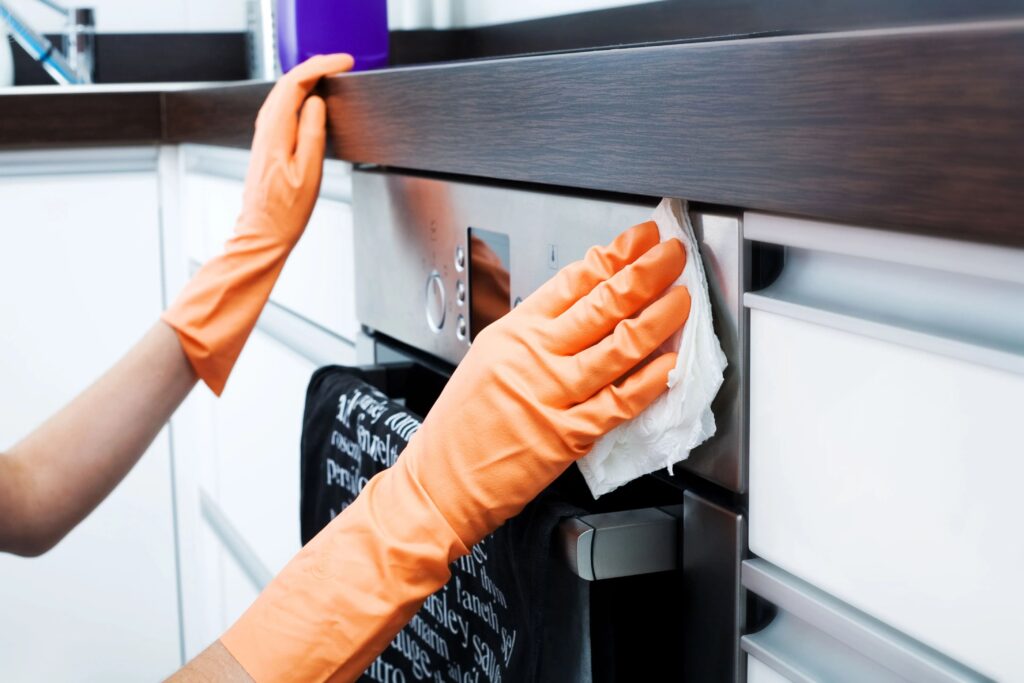 And whatever you do, don't try the Pinterest hack that suggests you take apart your oven door. "You should never disassemble the oven door to clean between the glass layers," says Forte. "This should only be done by an authorized technician to help prevent damaging the glass or the door, or voiding your oven's warranty."
How to Clean Tough (and Stubborn) Grime
That sticky apple pie filling that's clinging on to your oven for dear life? The only way to completely get rid of it is by using your appliance's self-cleaning function. If you don't want to deal with the hassle or have an older appliance, place a hot, wet cloth on top of burned spots to help soften the gunk. Then scrub with a heavy-duty pad and wipe dry.
How to Prevent Gunk and Grime
Just because you now know how to effectively clean your oven doesn't mean you shouldn't try preventing a mess in the first place. As a general rule of thumb, cover pans with lids or aluminum foil to prevent splatters and place baking sheets on the bottom racks when baking pies and casseroles to catch anything that might spill over. As soon as you suspect a spill, wipe it up before it becomes a bigger problem.