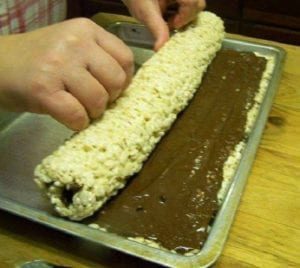 Do you enjoy Rice Krispie Roll Ups?  I sure do.  I love them alone, dipped in fondue, covered in caramel or chocolate or any other way.
What makes them better, you may ask? Well, my husband discovered the trick. It really isn't all that complicated, either!
If you can go to the store, buy a box of Rice Krispies, drive home, and pour the ingredients into a bowl, you can most certainly master the fine art of whipping up a batch of these beloved treats! Now, I like this recipe because it adds something a bit different to the mix than what your classic rice Krispie treats do. Are you curious as to what this mystery ingredient is? Caramel!
Caramel Krispy squares.  My husband was the one who suggested this additive and we looked up a recipe and lo and behold, found one from Australia of all places!  It was such an amazing alternative to the original and still so delicious with everything I mentioned above.
I will be making these yummy treats during the holidays as I am sure my friends and family will love them to pieces! You can also bring these treats to a church party, classroom snack, or give them away as gifts for a lovely homemade treat.
PLEASE, USE THE NEXT PAGE BUTTON BELOW FOR THE RECIPE AND INGREDIENTS AND DON'T FORGET TO SHARE THIS POST WITH YOUR FRIENDS AND FAMILY ON FACEBOOK.