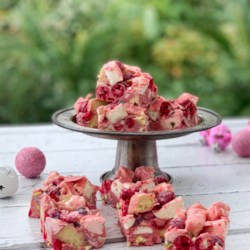 "The idea of rocky road is pretty much that: piles of rocky goodies all coated and glued together with chocolate that doesn't crack when you bite into it (thanks to coconut oil). So although I have used some fairly gourmet ingredients here, don't feel locked into that. Just go with what you have in the cupboard that you think will go well together!"
Ingredients
14 ounces ruby chocolate, chopped
1/2 cup coconut oil
1 teaspoon vanilla extract
18 shortbread cookies (such as Walkers(R)), coarsely chopped
1/2 (10 ounce) package marshmallows, cut into cubes
1/2 cup shelled pistachio nuts
1/2 cup slivered almonds
1 1/2 ounces candied flowers
3 tablespoons freeze-dried raspberries
3 tablespoons coconut flakes
Directions
Grease a small baking sheet and line it with waxed paper.
Place ruby chocolate, coconut oil, and vanilla extract in a large microwave-safe bowl. Microwave on full power until melted, about 1 1/2 minutes. Remove and stir vigorously with a silicone spatula. Press any remaining solid pieces of chocolate into the hot liquid until melted.
Add shortbread cookies, marshmallows, pistachios, almonds, candied flowers, raspberries, and coconut flakes to the chocolate mixture. Stir gently until fully coated.
Spread mixture on the prepared baking sheet and refrigerate until firm, 1 to 2 hours. Cut into squares using a really sharp knife.
Source: Allrecipes.com