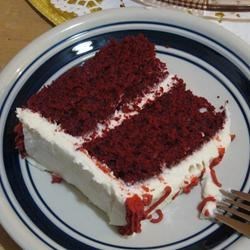 "The richest, reddest…most coveted cake in my area…So easy to make…gorgeous to serve!"
Ingredients
2 (1 ounce) bottles red food coloring
2 tablespoons unsweetened cocoa powder
1/2 cup butter
1 1/2 cups white sugar
2 eggs
1 teaspoon salt
1 teaspoon vanilla extract
1 cup buttermilk
2 1/2 cups flour
1 1/2 teaspoons baking soda
1 tablespoon white vinegar
8 ounces cream cheese, softened
1/2 cup butter, softened
2 teaspoons vanilla extract
1 1/2 pounds confectioners' sugar, or to taste
Directions
Preheat oven to 350 degrees F (175 degrees C). Grease and flour 2 9-inch cake pans.
Pour red food coloring into a small bowl, and mix with cocoa powder to make a paste. In a large bowl, beat 1/2 cup of butter, sugar, and eggs with an electric mixer until smooth and thoroughly combined; mix in the red color mixture, salt and 1 teaspoon of vanilla extract. Gradually mix in the buttermilk, alternating with flour, until the batter is smooth. Mix the baking soda and vinegar in a small bowl, and stir into the batter. Pour the batter into the prepared cake pans.
Bake in the preheated oven until a toothpick inserted in the center of a cake comes out clean, 25 to 35 minutes. Remove from oven, and cool in pans for 10 minutes before removing cakes to finish cooling on racks.
In a bowl, mash cream cheese with 1/2 cup softened butter and 2 teaspoons of vanilla extract until smooth and creamy; stir in the confectioners' sugar, about half a cup at a time, until the frosting is thick and spreadable. Frost fully-cooled layers.
Source: Allrecipes.com