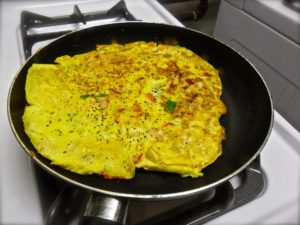 Yield: 1 serving
Preparation Time: 10 minutes
Cooking Time: 5 minutes
Ingredients:
 1 large organic egg
 1/3 cup water
 Pinch of garlic powder
 Salt and freshly ground black pepper, to taste
 1 scallion, chopped
 Pinch of sesame seeds
Directions:
1. Arrange a steamer trivet in the bottom of the Instant Pot and pour
in one cup of water.
2. In a heatproof bowl, add the egg, water, garlic powder, salt, and
black pepper and beat until well combined.
3. Stir in scallion and sesame seeds.
4. Place the bowl on top of the trivet.
5. Secure the lid and place the pressure valve to the "Seal" position.
6. Select "Manual" and cook under "Manual" and "High Pressure"
for about 5 minutes.
7. Select "Cancel" and carefully do a "Quick" release.
8. Remove the lid and serve immediately.
Nutrition Information per Serving:
Calories: 80
Fat: 5.2 grams
Carbohydrates: 1.8 grams
Protein: 6.7 grams