Whether you're just married, newly an empty nester, or moving in with a roommate, there are any number of reasons you might be cooking for two. And while "dinner for two" may sound like the stuff of romantic dates, it's not always so enchanting to grocery shop and cook for just two people. In fact, especially if you're used to cooking for a crowd (or just yourself), two-person meal prep can involve a major learning curve.
If you're feeling stumped about how to feed yourself and one other, read on. We're tackling the challenges of cooking for two with helpful cooking tips and shopping hacks, then sharing six recipes to get you started.
Challenges of Shopping and Cooking For Two
It's possible, of course, to find recipes intended for just you and your plus-one, but the majority of mealtime main course recipes are scaled for four people. This means that, to make many foods, you'll need to get comfortable with measurement conversions, as well as finagle a way to downsize recipes to the right cooking and baking equipment. For multi-serving dishes, like lasagna, casseroles, or breads, this can be especially tricky.
Additionally, with the large size of many grocery staples, you may find it difficult to get through them before they go bad. Wasted food—and therefore, wasted money—are a common problem for smaller households.
And when it's just two of you eating, your partner has more veto power over mealtime choices than if they were one voice among many. If your tastes differ from theirs, it can easily turn into a head-to-head over what to have for dinner.
Effectively Shopping and Cooking For Two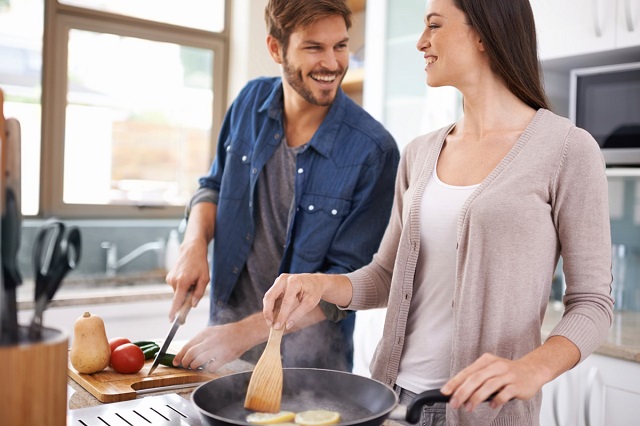 Although cooking for two takes some effort to get just right, these five tips can help streamline the process:
Invest in Cookbooks For Two
One easy and effective strategy for two-person cooking is to establish a rotation of go-to recipes. Perhaps you invest in a few well-reviewed cookbooks that feature recipes for two, or follow blogs or social media accounts that focus on couples' cooking. These can provide you with an arsenal of reliable meals that won't require tinkering.
Learn Measurement Conversions
No matter how many excellent two-person recipes you amass, you'll still encounter some that require a bit of math. Here's where getting familiar with measurement conversions is a must. It's smart to memorize factoids like how many teaspoons are in a tablespoon and how many cups are in a quart—or keep a conversion sheet handy somewhere in your kitchen.
Click 'Next Page' if you want to see more.