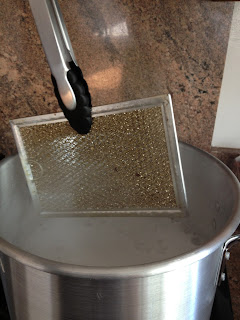 You can see in these pictures that the water is fizzing and the grease start to come off.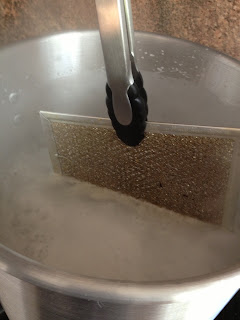 I decided to just drop mine in and let them sit for about 60 seconds. It was easy for me to do that because I have very small filters in my stove vent. If yours is large, you may have to do half then turn it around and do the other half.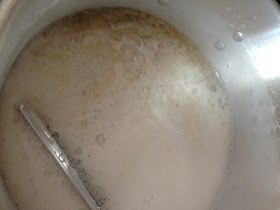 See all the grease! Yuck!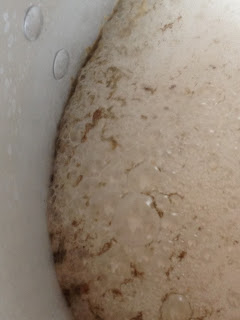 So now that one is done, here is a look of the before and after. They look brand new! And now I can have peace of mind with knowing that these are not sitting over my food while I am cooking. Plus I imagine that the grease and grime may cause unnecessary odors in your house.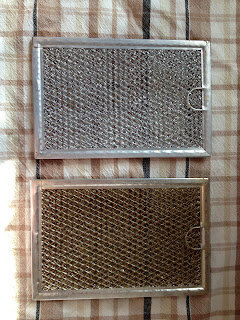 For the second filter, I did not bother emptying out the water. I just added more baking soda to get that fizz and dropped it in. And after all is done, they are both looking like new and are perfectly clean!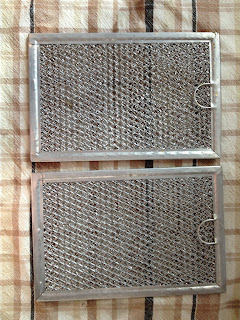 Now your pot is going to look a little worse for ware but its easy to clean. The grime doesn't stick to the edges very well and should come off fairly easy. I do recommend that you pour this gross water in the backyard somewhere that isn't easily accessible to pets or children. I only say this because I didn't want to pour the grease down my drains and have it coat my pipes. Its up to you on how you would like to get rid of this water, please do not pour it in the gutter or anywhere that isn't recommended by your local authorities.
Well that's it! From start to finish it took me less than 10 minutes! Hope yours goes as easy as mine did!